February 23, 2017
Dear Putnam Valley Staff and Community Members:
On Friday March 17, 2017, our schools will follow an early dismissal schedule to provide an opportunity for professional development. The School District also invites community members to join us from 12:30-2:00 PM as we explore ways to sustain a community of respect and support for our students. The High School will dismiss at 10:15 AM, Middle School at 11:00 AM and the Elementary School at 11:45 AM. For families who currently use the Putnam Valley Children's Center, the program will be in session.
We thank you in advance for your support, knowing that there may be inconveniences in our plan to dismiss early on March 17. We believe that at this time, your partnership is instrumental as we work to ensure safe and respectful school spaces.
Several circles of learning and sharing will take place simultaneously in order to provide information and dialogue on several ways to continue our efforts to empower all students in a safe environment that respects and appreciates different voices and perspectives.
Staff members are asked to identify three choices for the K-12 program, using the Google form. Click here
Parents and community members are asked to send an email to Jeannie Denike with their preferences. (jdenike@pvcsd.org).
We will try to accommodate choices but may need to re-assign based on the program structure and capacity.
Circles of Learning and Sharing:
Community Circle and dialogue on furthering our efforts to promote respectful, civil discourse and civic engagement: What are our schools doing now? What can and should be done? ~Facilitators: Ms. Intrieri and Dr. Wills


Digital Citizenship-How can we help our students use electronic devices and social media respectfully and determine the veracity and credibility of websites and links? ~Facilitator: Ms. DeMaine


Operation Respect: Introducing a program to teach younger students how to speak and act respectfully, appreciate differences and deter bullying behavior. ~Facilitator: Mr. Weiss
Teaching English Language Learners (English as a New Language): A basic primer and strategies for general education teachers. ~Facilitators: Ms. Coleman and Ms. Methans


The Instructional Strategies of Physics Professor Ed Mazur: Promoting students as problem solvers and active, collaborative learners. ~Facilitator: Mr. Kuczma


DASA (Dignity for all Students Act) : Principles, Process, and Perspective: ~Facilitator: Ms. Doherty


Facing History and Ourselves: Applying complex historical issues to current concerns related to prejudice, ethical decision-making, civic engagement and civil discourse. ~Facilitator: Mr. O'Connor
We invite your participation in this important opportunity to share, listen and learn from each other.
Sincerely,
Dr. Frances Wills
Superintendent of Schools
---
February 17, 2017
Dear Putnam Valley Community:
In the past week, I was able to observe some extraordinary student activities that are particularly meaningful as prepare to celebrate Presidents' Day on Monday. Visiting fourth grade classrooms last Friday, I observed students proudly presenting their research on colonial history and lives of early citizens. Using Google presentations or oral and hands-on demonstrations, our young students joyfully demonstrated their understanding of a way of life that incorporated physical labor, interdependence, and sharing of skills, common needs and resources. There were blacksmiths whose tasks were critical to the survival of the communities, farmers, silversmiths, housewives and children who maintained households, and one-room school houses, where older children taught the younger ones and somehow, learned to read and write. Survival required all hands at the ready. There was a simplicity that we might envy, but we also know that the work was physically exhausting and many died early from disease and environmental dangers. The fourth grade children presented their work to younger grades and to supportive parents and teachers.
In a very different setting at the High School, I watched the Black History Month assembly presentation, a dramatization using documentary footage of the civil rights movement with a narrative of an actor who told the story of life in the South for African-American boys and girls in the fifties and sixties through the violence, lynchings and assassinations that accompanied voter registration drives, the integration of schools, sit-ins, freedom-rides and the Selma March. Our eighth grade and high school students heard a first person account of the struggle that led to the Voting Rights Act of 1965. For our students, history came alive in this way and many looked at their companions differently. As I left the PAC, I heard one young man turn to his black friend and say, with some awkwardness, and heartfelt, but with a smile, "Now I understand."
Within the context of these engaging history lessons in our schools, I was inspired to remark upon the celebration of Presidents' Day this year, and I thought it would be meaningful to honor the day by turning to the messages of Washington and Lincoln in their first inaugural addresses. Washington actually created the custom of the inaugural speech. There was no requirement for the first President to address the citizens. Rather there was a duty to recommend "such measures as he shall judge necessary and expedient." Rather than specific policies, Washington used the opportunity to express the importance of an "equal eye" to oversee the community, "order and right," "private morality," and "preservation of the sacred fire of liberty" and "destiny of the republican model of government," and what he called the "experiment entrusted to the hands of the American people."
Lincoln spoke 72 years later in his first Inaugural Address and grappled with the struggle to keep the union together, divided over the awful root of slavery that threatened its existence. He attempted to persuade his countrymen that secession was impossible without "anarchy." Yet he expressed his faith in the Constitution and the courts and asserted his belief that the nation would survive. While Washington had the unquestioned confidence of the founders, Lincoln was elected by a majority of the Electoral College and only 40% of the popular vote. His inaugural was a plea for unification. He couldn't know the extent of the horror that Civil War would bring. His final words remain relevant and powerful today:
"We are not enemies, but friends. We must not be enemies. Though passion may have strained, it must not break our bonds of affection. The mystic chords of memory, stretching from every battlefield, and patriot grave, to every living heart and hearthstone, all over this broad land, will yet swell the chorus of the Union, when again touched, as surely they will be, by the better angels of our nature."
For me it is instructive and helpful to read both of these great Inaugurals. They shed light on our continued quest to create "a more perfect union." The speeches can be found at:
teachingamericanhistory.org › Newsletter. Another powerful website for research on documents that have shaped our history is https://ourdocuments.gov/content.php?page=milestone
Wishing all a few days of respite before we meet again on Wednesday, February 22, Washington's Birthday!
Dr. Frances Wills
Superintendent of Schools
---
February 16, 2017
Dear Putnam Valley Community:
Every other year, our school district works with Putnam County's Putnam Communities That Care (CTC) Coalition to conduct a highly respected and validated Prevention Needs Assessment Survey of students in grades 8 through 12. Student responses to survey questions permit the measurement of factors that place our students at risk for problem behaviors and the factors that protect students from problem behaviors. Results are compiled for individual districts and Putnam County.
To further their efforts, this fall our local CTC held a "Key Leaders Breakfast" and invited community leaders to come together to discuss the most pressing concerns facing the young people of Putnam Valley. Community leaders from scouts, sports, law enforcement, our fire and ambulance departments, Parks and Recreation, our schools, and many others provided feedback and suggestions and a community-wide survey was designed and is attached for your input.
The next meeting of our Putnam Valley CTC is scheduled for March 14 at 2:30 pm. Anyone interested in joining the group is welcome to join us in the High School Library classroom. (email: web@pvcsd.org)
Please take a few minutes to take the attached survey. Your input is valued and appreciated.
Sincerely,
Dr. Frances Wills
on behalf of the Putnam Valley CTC
Putnam Valley CTC Survey - Click Here
---
February 15, 2017
Dear Putnam Valley Parents/Guardians:
Once again, I am writing to you to ask that you support our teachers and administrators in providing the instructional foundation and environment that supports student learning and achievement as creative and critical thinkers, readers and writers. As we have indicated in prior letters, we continue to look towards strengthening our instructional strategies and targeting our approaches to student needs. To that end, our staff has analyzed the New York State 3-8 assessment results to provide information that we have used to examine student progress and performance. Because we do not have results from all students in grades 3-8, we attempt to supplement the state assessment with a variety of other types of assessments so that we can work effectively to ensure student success. This year, our teachers worked together to create a chart that provides clear and immediate information on how the tests have changed over the past two years to address concerns that parents have had.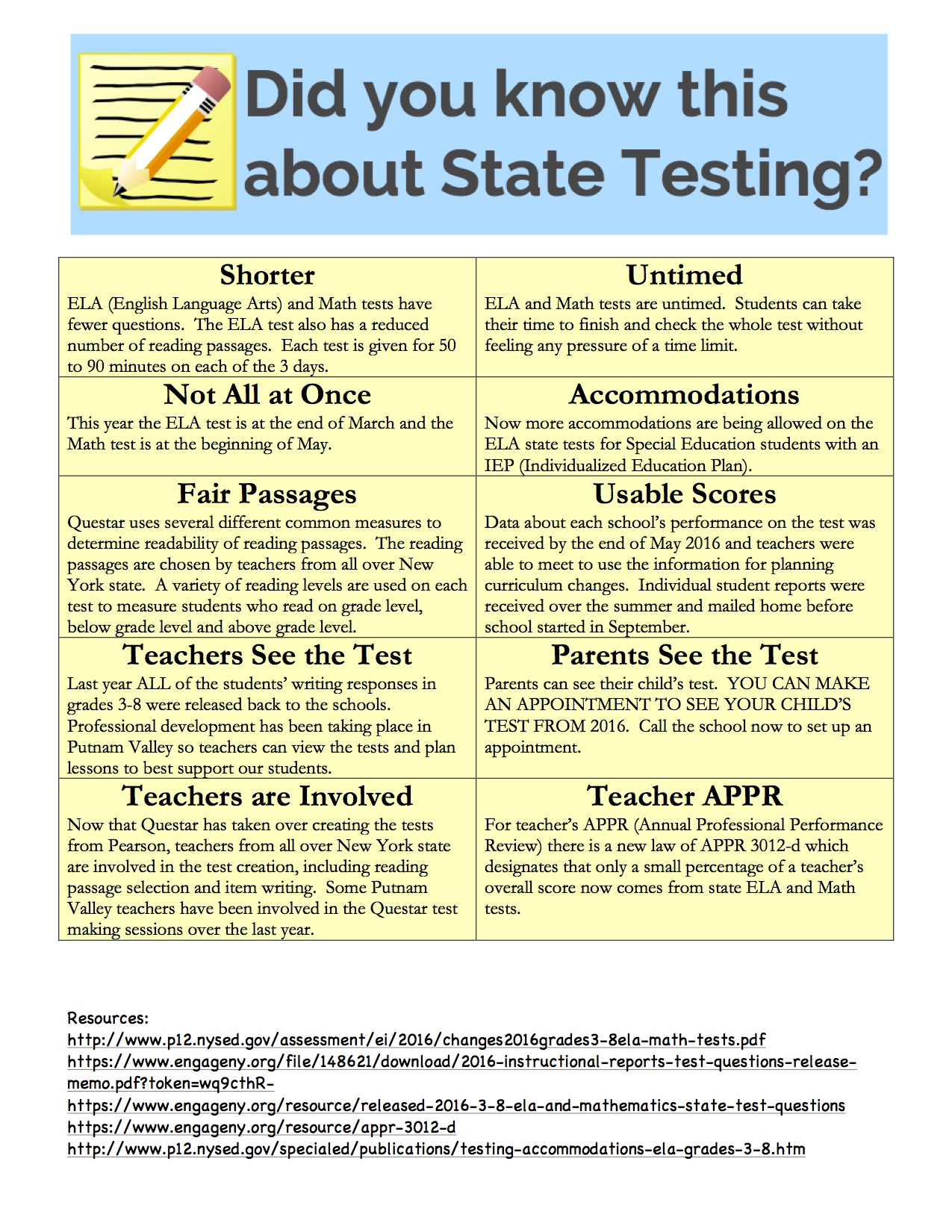 Parents are now able to review most of their child's tests and responses, not just the results, but the actual math and ELA tests so that they are aware of what students are expected to know and do in their grade level. In order to review the tests, parents can call the principal's office and make an appointment to meet with the administrator or teachers to examine their child's tests.
Other changes are outlined in the attached chart so that parents can quickly see just how different the testing process has been. Some of the important issues that have been addressed:
Tests are shorter with fewer reading passages and math problems. A portion of three days is used for test administration.
Tests are spread out, so that ELA is at the end of March and Math is at the end of May.
The new test developer, Questar, uses different measures and provides for a variety of reading levels with passages chosen by teachers from all over New York State. PV teachers have participated in test development.
ALL student writing responses in grades 3-8 were released to schools. We have had professional development for our staff so that teachers view the tests and plan lessons to support students.
Teachers are involved in test creation, item writing and passage selection.
The tests are untimed. Suggested time varies from 50-90 minutes per session. Students can take their time to finish and check. There is no pressure of a time limit.
More IEP accommodations are now allowed on the state tests. You can learn about these from our Office of Pupil Personnel or your child's teachers.
The test results are now returned by the end of May so that teachers can meet over the summer to use the information for planning. Individual reports were mailed home before school started.
Parents can see their child's test. Make an appointment to see your child's 2016 test.
The new APPR law removes the 3-8 scores from calculation of the teacher's reported evaluation score.
We are asking that all students participate in the State Assessment process this year. There is already a negative impact on the District's accountability rating because we had a refusal rate above 5%. Our refusal rate was over 40%, which may result in penalties that are not related to student performance, but to student participation. We are looking at the consequences of not meeting the Acceptable Yearly Progress, not due to student achievement, but due to lack of participation in the testing process. If we are named a "School in Need of Improvement," we have damaged our reputation and the community's standing, and created the need for extensive paperwork and reporting that will compel our use of limited resources for this purpose.
We understand that there continue to be questions about the direction of New York's educational initiatives. However, much has changed, and we need to be sure that our students are meeting the standards that measure their progress and the District's efforts to provide a meaningful and engaging educational program.
Please feel free to contact me if you have any questions.
Sincerely,
Dr. Frances Wills
Superintendent of Schools
---
February 14, 2017
Dear Putnam Valley Community:
You may have heard about an initiative at our high school called Rachel's Challenge sponsored by the student's Make A Difference Club. Rachel Scott was one of the first students killed at Columbine High School in 1999. Her parents found in her room a diary that reflected her vision of kindness and "compassion," which she believed "is the greatest form of love humans have to offer." High school students throughout our nation have had an opportunity to learn about Rachel Scott and have pledged to honor her memory and legacy by performing acts of kindness in their own schools and communities. This week, our Putnam Valley students, who are advised by teacher Linda Cefaloni, sent individually composed and handwritten messages of kindness and appreciation to every member of our staff. Each one of us was moved deeply on Valentine's Day to read these personal messages. The message below was included with the handwritten note:
Dear Employee of the Putnam Valley School District,

Believe it or not, every day you touch the lives of children in the district. Whether you greet and drive us each day, keep our schools clean and safe, feed our hungry appetites, pick us up when we are down, help us overcome challenges, teach us to think and solve problems, encourage us when we fail or are hurting, protect us so that we stay healthy in mind and body, provide assistance to callers and visitors, pay district expenses and employees, fix our laptops, or do something else to keep our school running smoothly, we thank you. Everything you do for us may not be visible, but it matters, and it is greatly appreciated.

This year we thought it important to say thank you personally. We know it takes everyone working together to educate us. Whatever you do, wherever you work, your words and actions affect us in a positive way. Rachel Scott had a theory that if one person were to go out of their way to show some form of kindness, it would start a chain reaction. We wanted to share Rachel's message and challenge you to share it with another.

Enclosed please find a Kindness Note and Rachel's essay. Compassion, she believed, is the greatest form of love humans have to offer. We don't have much to show or give you, but please except our words as a thank you for all you do each day for us, the children of the PVCSD.

The Students of the PVHS Make a Difference Club
"Someday, these hands will touch millions of people's hearts" ~ Rachel Scott
We are inspired to share this kindness and the generous spirit of our students with our community.
Sincerely,
Dr. Frances Wills
Superintendent of Schools
---
February 6, 2017
Dear Putnam Valley Community:
Based on my recommendation to the Board of Education, it is anticipated that Travis McCarty will be appointed to the position of Putnam Valley Middle School Principal on February 9, 2017. This appointment will be effective July 1, 2017. As you know, Mr. Hallisey, will be retiring after 36 years with the Putnam Valley School District, effective June 30, 2017.
After an extensive and thorough hiring process, which began with 100 applicants, screening interviews of seven candidates and then thorough interviews of three finalists with a committee representing staff, parents, and members of the Board of Education, I had more than sufficient evidence to support my recommendation of Mr. McCarty for this critical position.
As a teacher, administrative intern, and assistant principal, Mr. McCarty has demonstrated the characteristics needed to succeed as a principal who will lead our District effectively as we work toward developing students with the capacity to fully engage in meeting twenty-first century challenges in college or career.
Mr. McCarty has strong beliefs about respecting all students and diversity of thought and culture. He focuses on student and staff voices and needs. During the interview process, staff provided evidence of his adherence to these principles by recounting the time he spends listening to staff and talking and interacting with students in informal and formal ways throughout the day.
It is clear that Mr. McCarty has his own vision for school success and is eager to obtain feedback that will help the school to improve its responsiveness to student needs. During the interview, Mr. McCarty referred with enthusiasm to the "Schools to Watch" evaluation process and the staff and community involvement in this rigorous review of the school. He is eagerly awaiting the report of the evaluation so that the information gleaned from the feedback will generate a template for improvement that he and his staff can utilize to inform a vision and strategy for change.
Mr. McCarty is a reflective, curious and caring leader, who sees each student and staff member as a valued individual to be supported in the quest to "get better." During his participation in the Bank Street Future School Leaders Academy, he engaged with twenty-three cohort members who served in districts throughout Westchester and Putnam County. He has made site visits to several middle schools of distinction, and this spring, to inform his vision and planning for our district, he will visit other middle schools that have been recognized for their outstanding educational programs.
I feel strongly that Mr. McCarty has earned this recommendation through his commitment to students, staff, community and his continued passion for learning to facilitate success for all.
Sincerely,
Dr. Frances Wills
Superintendent of Schools
---
January 27, 2017
Dear Putnam Valley Community:
The United Nations has designated January 27 as International Holocaust Remembrance Day. This is the commemoration of the liberation of Auschwitz and Birkenau by Allied troops near the end of World War II. Reflections of American soldiers from that experience catalog the horrors they viewed. They witnessed the complete degradation of humanity in the starving survivors and in the remainders of the gas chambers and incinerators. Their stories revealed to the world what had been reported but not fully understood due to the unthinkable nature of the genocide that included 6 million Jewish citizens of countries throughout Eastern Europe. However, the journey to the death camps began with words, caricatures, messages that dehumanized Jews, Roma, children and adults with disabilities of all kinds, gay men and women and others who were defined by the German government as less than human. The process of degrading others began with legal segregation and the elimination of rights to education and professional opportunities. Thus, remembering the Holocaust is about remembering that the privilege of democracy is earned through vigilance and civic engagement. I am including a link to a YouTube video that reminds us that there have been a number of other genocides since the holocaust, and that remembering requires our commitment to defend the dignity of all.
Sincerely,
Dr. Frances Wills
Superintendent of Schools
---
January 21, 2017
Dear Putnam Valley Staff and Community:

With the Inauguration of our 45th President of the United States, we remind ourselves of the privilege of democracy, with the embrace of diversity of thought as its strength. We also are mindful of our respect for differences, and appreciation of our common belief in each individual's right to "life, liberty, and the pursuit of happiness." In our schools we pledge to defend the dignity of every child without fear of hateful speech or physical harm. While there is turbulence without, we will strive for peace within. Recognizing that opinions and perspectives differ, we seek to value disagreements as a path to learning, while adhering to a common understanding of decency and fairness. Education requires exploration of all sides of a question to seek truth. Together we continue our quest for "a more perfect union."

Sincerely,
Fran Wills
---
January 18, 2017
Dear Putnam Valley Community:
I would like to invite you to our next "Superintendent's Listening Hour" which will be held tomorrow night, Thursday, January 19. We will meet in our high school library at 6:00 pm, just prior to the Board of Education meeting which begins at 7:00 pm in our high school cafeteria. The agenda is open to allow for informal conversation and to provide an opportunity for you to get to know your schools.
Let's keep the conversations going!
I look forward to seeing many of you tomorrow evening.
Best,
Dr. Fran Wills
Superintendent of Schools
---
January 13, 2017
Dear Putnam Valley Community:
As we prepare to honor Martin Luther King, Jr. on Monday, January 16, 2017, I would like to call your attention to some recent films that provide rich and remarkable background to help us understand the turning point in the history of civil rights that took place in 1963. Three films seem to capture the issues that moved Martin Luther King, Jr. as a Civil Rights leader. August Wilson's play, Fences, presents the plight of African-American workers in the fifties, and portrays themes of childhood disappointment, parenting, marital relationships and frustration with limited expectations that are common to all families. Moonlight is a poignant coming of age film that provides insights into the unique pain of young black men as they venture into the world. These two films are not recommended for children. They explore adult topics and issues.
However, in a completely different way, and suitable for families to view, the movie, Hidden Figures, tells a story that captures vividly the context of Martin Luther King's struggle for Civil Rights. In this film, based on a book by Margot Lee Shetterly, we learn about three women whose knowledge of mathematics was critical to John Glenn's manned space flight in 1962, and the restoration of our pride in America's role as the leader of scientific progress following the Soviet Union's colossal "first in space" triumph in 1961. In this buried gem of our history, three African American women, Katherine Johnson, Dorothy Vaughan, Mary Jackson, math prodigies, known as "human computers" for their ability to do complex calculations with incredible speed and accuracy, were called upon by NASA to calculate and plot the space launches and the return of astronauts to earth. Even with the invention of the first IBM computers, these women taught themselves to program and were relied upon to ensure the safe return of our men in space.
We haven't heard about these women because their story was hidden; nor were their hardships in a segregated environment revealed. Even with all their knowledge and skill, because they were African American, they suffered indignities that shock us today. They were required to walk a ½ mile to get to a segregated bathroom, and even denied the use of the coffee pot in the break-room. Undaunted, they rise above the hardships; they are committed to their nation and the dream of space travel. Finally, last year, their leader, Katherine Johnson, 98, was awarded the Presidential Medal of Freedom.
I hope that your family will be able to see this film. You will find inspiration and much to admire and revere in the dignity and humanity of these three American heroes. I believe they earn our deep respect for what Martin Luther King, Jr. called in his iconic "I have a dream" speech, the "content of their character."
(Here is a link to the movie trailer: https://www.youtube.com/watch?v=5wfrDhgUMGI)
After Wednesday night's high school chorus concert, I feel compelled to share a video-clip of our students who sang the song, "My Shot" from Hamilton against a backdrop also created by a student, sending the message of the dreams of our nation for unity of purpose within diversity of thought and experience, and the opportunity for each of our students to "rise" and make a difference. https://youtu.be/tLV_GcDbbA4
Sincerely,
Dr. Frances Wills
Superintendent of Schools
---
January 11, 2017
Dear High School Parents/Guardians:
In order to respond to concerns and questions that parents may have about yesterday's incident regarding threats made on social media directed at the High School, the principal, Ms. Intrieri will hold a public forum for High School parents, from 6:30 -7:00 p.m., this evening in the High School library (prior to the choral concert). Today, Ms. Intrieri met with all students to respond to their concerns. Our Student Resource Officer, Deputy Pitt, also presented the dangers of abusing social media and the potential impact on the future of our students. You are welcome to attend tonight's meeting regarding this matter.
Sincerely,
Dr. Frances Wills
Superintendent of Schools
---
January 10, 2017
Dear Putnam Valley Community:

Earlier today we received by both a student and via our reporting system, Anonymous Alerts, information about an Instagram posting that indicated a serious threat by two students against our high school and referenced a future date. Law enforcement was immediately contacted and an investigation is ongoing. We are confident, after consulting with law enforcement, that there is no imminent danger to our students or staff.
As always, we will continue to work with law enforcement to ensure the safety of our students and staff.
Thank you,
Dr. Frances Wills
Superintendent of Schools
---
December 23, 2016
Dear Putnam Valley Community:
Putnam Valley CSD had determined that it is important to introduce a new communications tool called Anonymous Alerts®. Anonymous Alerts® allows students or parents to quickly, easily, and anonymously report urgent information to school officials across all of our school campuses. The system encourages students, parents and staff to confidentially report bullying, cyber-bullying, and other sensitive topics through private messages to our administration. Putnam Valley CSD does not support, encourage or tolerate any behavior that prevents any student from reaching their full potential.
We also believe that the best way to address problems that our students face in school is personal contact with a teacher, school administrator, psychologist or counselor and we strongly encourage and fully support that continued practice. However, we do know that sometimes there is a concern that a student or parent may want to communicate anonymously.
How do I place an incident report from Internet connected computers/tablets?
1) Go to https://www.anonymousalerts.com/putnamvcsd/ from any Internet connected device
2) Click on the web button called "Anonymous Alerts". Fill out your incident report.
How do I place a report from an iPhone or Android phone?
1) From the iPhone Store, download the free app by searching for "Anonymous Alerts". If you have an Android phone, go to the Play Store, search for "Anonymous Alerts" and download.
2) After downloading the app, click on it, enter setup/login putnamvcsd and enter putnamvcsd as your Password.
You will also find an Anonymous Alerts icon on our district webpage.
The mobile apps and Web-based reporting system provides secure 1-way or 2-way encrypted messages, increasing the flow of important information to school officials. Message topics for submission may include bullying, cyber-bullying, family difficulties, self-harm/cutting, drug and alcohol abuse, student depression, sexual harassment, gang related issues or strange/abnormal student behavior.
All reports remain completely anonymous, although submitters have the option to reveal their identity if they prefer to have a person-to-person discussion. The program is monitored from 7:00 AM until 5:00 PM, and should only be used for serious and urgent matters. Indeed, if something disturbing or life threatening occurs at other times, it is imperative to call 911.
We feel that we have a responsibility to offer this tool to our community in order to protect the safety of our students, providing avenues for confidential disclosure when there is something serious that is troubling them. At Putnam Valley CSD, our goal is to enhance the student's learning experience and limit any roadblocks to a student's success, giving everyone the opportunity to succeed.
Representatives from Anonymous Alerts will be presenting this reporting system to our middle school and high school students on January 3 during grade level community meetings.
Sincerely,
Dr. Frances Wills
Superintendent of Schools
Mobile app student training video: https://www.youtube.com/watch?v=1pZr5gQ7cuM
---
December 22, 2016
Dear Putnam Valley Community:
In this season when darkness comes swiftly and early, the lights of many holidays celebrated in December and representing the cultural diversity of our community, enliven our spirits and ignite our own inner fire. We are rescued from the bleak early winter evenings by celebrations sharing decorative, glowing lights to bring us hope and inspire our own better angels. We feel warmer and better connected to our families and friends when the colorful lights in and on our homes spread good will and joy.
There is a Danish word that has been trending as a way to describe that good feeling we enjoy, Hygge (In Danish, hygge (pronounced "HUE-gah") One site provides the definition: "Though there are many ways to describe hygge, we see it simply as the Danish ritual of enjoying life's simple pleasures. Friends. Family. Graciousness."
Light also symbolizes and proclaims our attainment of knowledge and understanding. Putnam Valley schools reflect that light to our students, staff, parents and communities through the choral and music concerts, theater productions, art work, writing and acts of kindness and compassion that "make a difference." We are so fortunate to live and work in a caring community that aspires to build relationships of respect, acceptance, appreciation and friendship. The holidays bring us together as we enjoy our students' performances, the voices of children singing and their loving message.
As we move into our holiday celebrations, perhaps you join me in sense that I need to do more and feeling somehow that there is something else I need to do to make everyone around me feel content. Recently, I read an essay that explored the connection between gratitude and the feeling of having "enough!" Mary Halpin Carter, who is head of school at Derryfield School in New Hampshire referenced an article in the Harvard Medical School's Healthbeat that discusses the role of gratitude in happiness, "Gratitude helps people feel more positive emotions, relish good experiences, improve their health, deal with adversity, and build strong relationships." (www.health.Harvard.edu). Connected to the notion of gratitude is that of feeling that one has enough. "The happiest, most content, generous, and free people are those who feel they have enough and are thankful for it. Enough is the unsung hero of human happiness. Let's take a moment to acknowledge, with gratitude, that we have enough."
Wishing all a safe and joyful holiday season and a Happy New Year!
Sincerely,
Dr. Frances Wills
Superintendent of Schools
PVHS Make A Difference Club visits the Putnam Valley Senior Center:
5th/6th Grade Chorus Concert:
1st Grade Concert:
PVHS Carolers visit PVES
---
December 7, 2016
Remembering Pearl Harbor
Seventy-five years have passed since the attack on Pearl Harbor on December 7, 1941, also known as the "the date that will live in Infamy." Indeed, on that day our nation was compelled to enter the conflagration, and to confront the genocide and destruction that had been roaring through Europe and Asia well before the attack on Poland in 1939. Reluctant to go to war after WWI, to be once again entangled in Europe's conflicts, our leaders prepared our military and quietly supported our allies, but President Roosevelt only made the official declaration of war after the attack. All Americans, especially our servicemen and women, responded with the spirit, courage and strength that we revere to preserve the freedoms we cherish. In a famous speech, President Roosevelt identified the "four freedoms" we needed to remember in our struggle: freedom of speech, freedom from want, freedom from fear and freedom of religion. With those freedoms in mind, our belief in the dignity of every individual, and the knowledge that our vulnerability as a democracy requires our vigilance, we remember Pearl Harbor as a violent and tragic assault on our homeland. We also remember Pearl Harbor as a call to unity of purpose, doing what was necessary to protect American principles and values that inspire us and so many around the world.
To make this day more meaningful, I would like to suggest planning a visit to Hyde Park. I have learned much about the decisions made at that time by visiting Hyde Park with my family. The museum is interactive and a wonderful place for children to be exposed to our history. Valkill, Eleanor Roosevelt's retreat, provides further insight into the dialogue between the President and his wife about difficult and controversial decisions that were made throughout his presidency.
In a reference attributed to George Santayana and then Winston Churchill, we are cautioned that "those who fail to learn from history are doomed to repeat it." Our Putnam Valley teachers are committed to ensuring that our students "learn from history." It is up to all of us to move toward a better future empowered by that knowledge.
Sincerely,
Dr. Frances Wills
Superintendent of Schools
---
November 29, 2016
Dear Putnam Valley Community and Staff:
As you know, a committee representing all constituents has been studying the possibility of a later start at the high school based on research on the physical, mental and academic needs of adolescents. As a result of the committee study, we have determined that we would focus on the possibility of a two-tier bus system that transports the middle and high school at the same time, allowing high school students to arrive at least 1/2 hour later in the morning. The thinking and discussion about this topic are available on our website. The presentation outlines arguments on all sides of the issue from perspectives of parents, students, teachers and administrators. Please review this information and click the link below to let us know your thoughts. You can also share your feedback using the comments icon in the PV App or by clicking the comments section on the district webpage just below the presentation.
In addition, we have scheduled public forums on Thursday, December 8 and Thursday, December 15, both at 6:00 PM in the High School cafeteria. All are welcome to attend.
Sincerely,
Dr. Frances Wills
Superintendent of Schools
Presentation - Click here
Comment link - Click here
---
November 21, 2016
Dear Putnam Valley Colleagues and Community:
As the Thanksgiving holiday approaches, I want to extend my best wishes to all for a fulfilling and joyful day. Time with family and friends is special; we relax in the comfort of our homes, sharing our offerings of food and good spirits. That warmth is cherished, and for many it is anticipated for weeks ahead. Others may feel the absence of someone who is missed at the table, and we bolster them with our presence and recollections of time past.
In that spirit of caring, Putnam Valley High School, has been dedicated this past month to Rachel's Challenge, fulfilling the wish of a young woman who was the first to die at Columbine High School in 1999, and who left behind diaries and poetry that seemed to prefigure her role in history, creating a challenge to her peers to spread goodwill, and to play a part in history by "dreaming big" and starting a chain reaction of kindness. Rachel's challenge has been taken up by high schools throughout the country. Our "Make a Difference Club" has been collecting food for the needy in our area,sending notes of appreciation to our entire staff and pledging to participate in the Kindness "crusade." Wonderfully, with gratitude to their families, we notice in Putnam Valley Schools that the students are, with very few exceptions, good to one another. Our school leaders and staff are committed to creating an environment that makes our schools safe and comfortable places for all. For me, a guide to my own reflections on this holiday is expressed by Anne Frank, who, at thirteen while hiding with her family through the courage of a neighbor, maintained her ideals and belief in the essential goodness of people, reflecting in her diary, "how wonderful it is that nobody need wait a single moment before starting to improve the world."
If you can, join our music department at the Tompkins Cultural Center tonight at 7:00 pm for the second annual Gratitude Festival!
Wishing all a wonderful holiday!
Sincerely,
Dr. Frances Wills
Superintendent of Schools
---
November 9, 2016
Dear Putnam Valley Community:
Dr. Wills sent the below message to the PVCSD staff this morning and asked that it be shared with the community.
Dear Colleagues:

Yesterday we voted; today we acknowledge the results of the democratic process that continues to prevail throughout America's 240 year history. Faith in the ideals expressed in our Constitution has sustained us over the centuries, and we will continue to ensure their preservation. In fact, on Friday, November 11th, we will recognize those who sacrificed everything for that purpose.

The freedoms, rights and responsibilities our soldiers valued and died to protect are ours to savor and express. As we await the inauguration of the new President of the United States, we will focus on ensuring that we continue to protect the dignity of every member of our school community and to nurture in our schools a discourse of respect for our students and staff with an appreciation of the differences they contribute to the tapestry of a diverse American culture.

While there may be uncertainty outside our walls, there is within the school environment assured purpose and support. We are charged with educating our students to become knowledgeable, literate and productive citizens, who are able to advocate with reason and courage for the values we share, and to use their freedoms wisely.

Fran
(Please remember that our Elementary School will be closed tomorrow for Parent/Teacher conferences and all schools will be closed Friday in honor of Veterans Day.)
---
November 4, 2016
Dear Putnam Valley Community:
Tickets will be available at the door for this weekend's TheatreWorks production of Lend Me a Tenor.
At a time when we all need a good escape into entertainment and just plain fun, Lend Me a Tenor will fill the bill!
This production by our very own TheatreWorks cast and crew, directed by Dr. Gerry Micera, displays the wit, charm and slapstick humor that leads to some deep and healing laughter. Please take a night or afternoon off to join our community in support of our students, budding thespians and remarkable voices.
The performances take place on Friday and Saturday night at 7:00 pm and on Sunday afternoon at 2:00 pm.
Sincerely,
Dr. Frances Wills
Superintendent of Schools
---
November 5, 2016
Dear Putnam Valley Community:
Please click here for our District Newsletter - Fall 2016. Take a look at our District news and latest initiatives in each building.
The newsletter can also be found on our website under Notices.
If you have friends or neighbors who do not have children in our schools, but are interested in receiving periodic publications from the District, please ask them to email their contact information to Newsletter@pvcsd.org.
Sincerely,
Dr. Frances Wills
Superintendent of Schools
---
November 1, 2016
Dear Putnam Valley Community:
At a time when we all need a good escape into entertainment and just plain fun, Lend Me a Tenor will fill the bill!
This production by our very own TheatreWorks cast and crew, directed by Dr. Gerry Micera, displays the wit, charm and slapstick humor that leads to some deep and healing laughter. Please take a night or afternoon off from nail-biting and join our community in support of our students, budding thespians and remarkable voices.
The performances take place on Friday and Saturday night at 7:00 pm and on Sunday afternoon at 2:00 pm.
Sincerely,
Dr. Frances Wills
Superintendent of Schools
---
October 27, 2016
Dear Putnam Valley Community:
Last week, we sent out a review of the lead testing process and the status of results. Results are also posted on our website. We now have complete results that I want to share with you. I am also attaching a link to the original letter so that you have the complete history of the testing process. We are now working with an approved consultant to develop our remediation plan.
We have received our final report from the lab regarding the lead levels in our school district water supply. As discussed in the prior letter, the established limit is 0.015%.
This is the breakdown by location:
HS-139 tests, 1 faliure
MS-55 tests, 10 failures
ES-81 tests, 13 failures
Concession stand-7 tests, 1 failure
None of the failures were from drinking fountains, but were from sinks that are not normally used for drinking (kitchen hand sinks, slop sinks, science room and bathroom sinks). In the Elementary School there are 3 combination sink/fountains above the standard. We have shut those locations down and have brought in water coolers until our contractor can repair the issue.
Our custodial staff has been instructed to post signs at the areas in question stating, "not for drinking" and "not for consumption." Our principals will review this information with our staff and to instruct students.
Test results are posted on our website, and I am available to respond to your questions.
Sincerely,
Dr. Frances Wills
Superintendent of Schools